Every semester, we plan a social or two to celebrate our achievements and work in the lab. This time is an opportunity for us to strengthen our friendship with one another and we find that it creates a strongly supportive and inclusive environment to work in.
Labsgiving Social (November 2021)
Before Thanksgiving break, we held another social to celebrate the holiday and our thankfulness for each other in the lab! We enjoyed fall treats such as pumpkin pie and hot chocolate and did bonding activities such as talking about our favorite Thanksgiving foods and snacks. It was great to see everyone in the lab and update each other about how we were doing in the semester!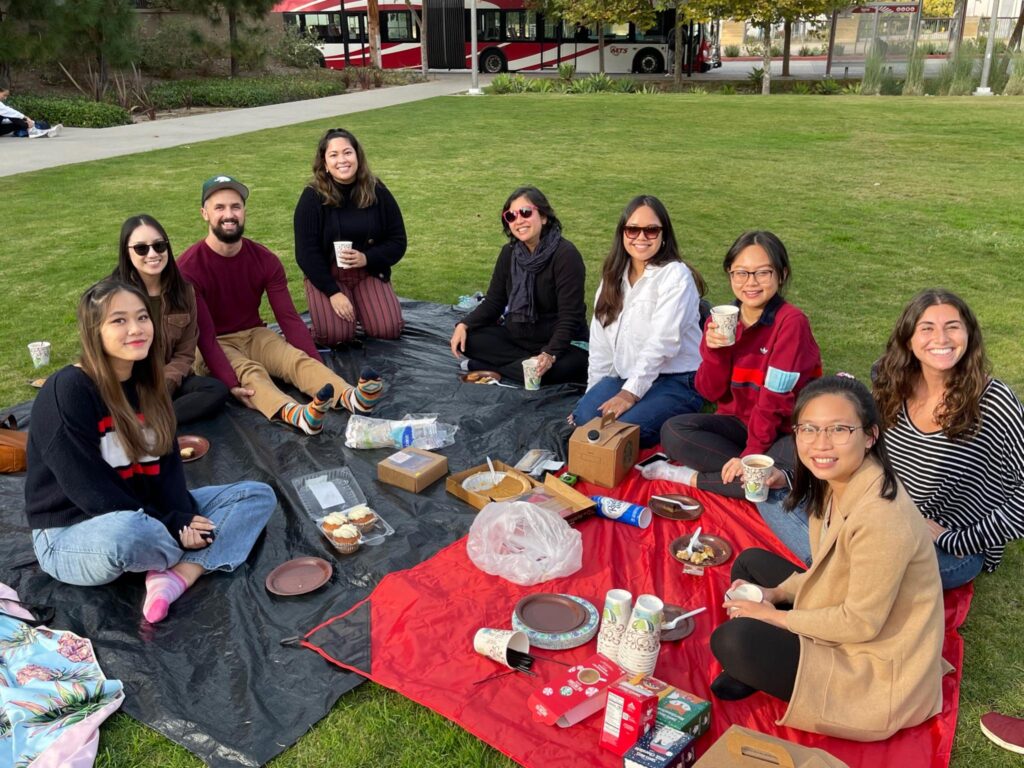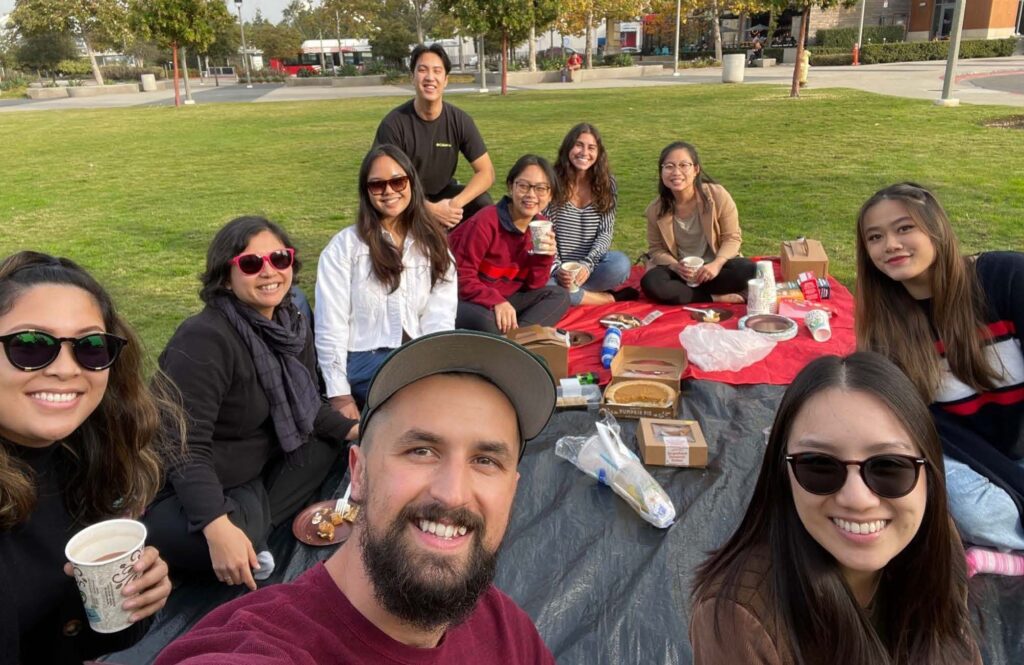 Lab Social ​(October 2021)
In early October, the BDC Lab had its first social of the fall semester! We had a great time outside on the Campus Green and got to know each other as a lab (and some of us even met each other for the first time in-person!). The social was picnic-themed and we got to enjoy small snacks together while chatting about our semester, adjusting back to campus, and giving each other advice. It was such a fun social event and we hope to have another one soon!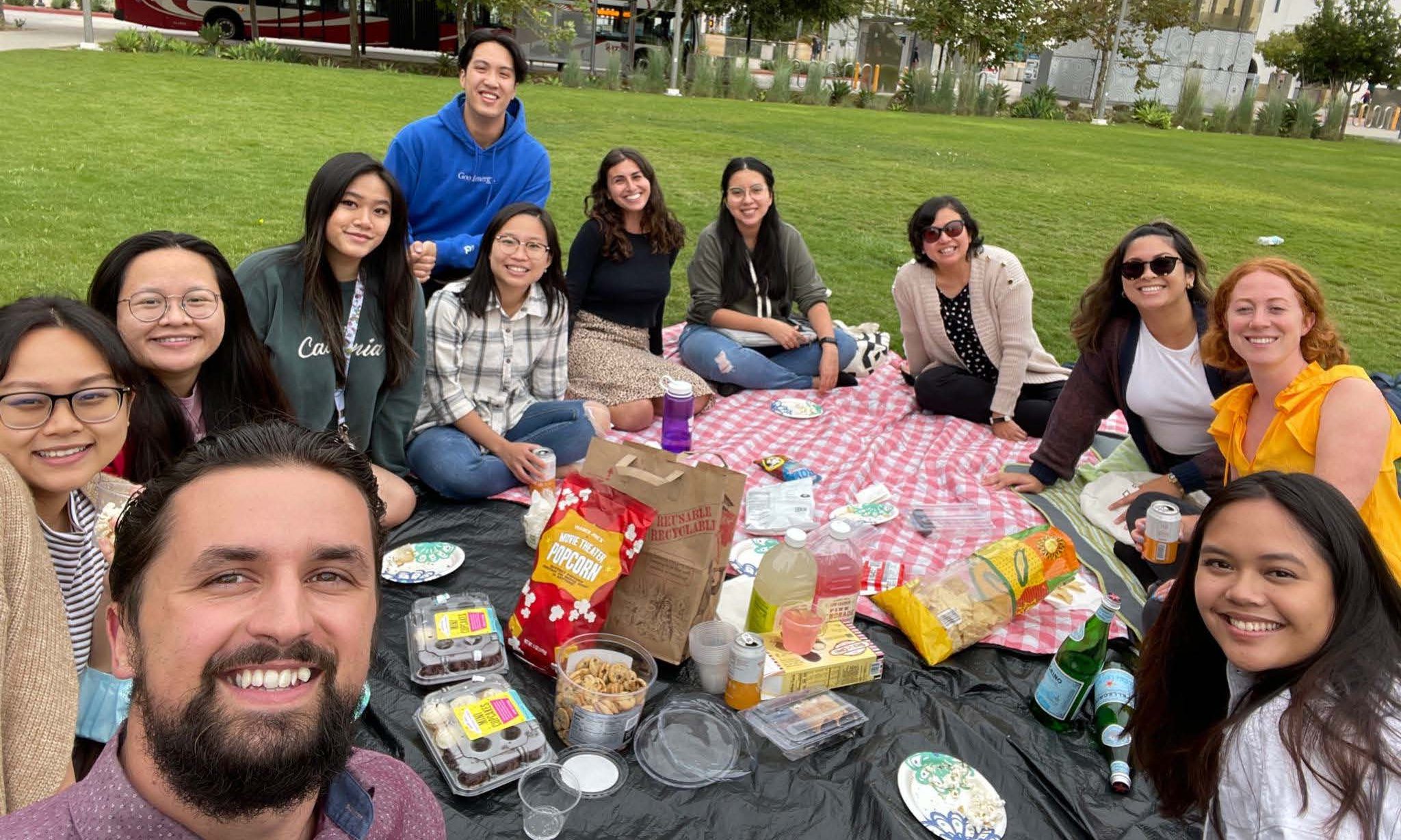 Virtual Lab Social ​(September 2020)
We held our first virtual lab social a month into the semester, and thanks to the group effort of Quynh and the Spanish vocational group, it was an hour of fun bonding and laughs with each other. We shared the stories and meanings behind each other's names and played a song guessing game. Looking forward to the next one!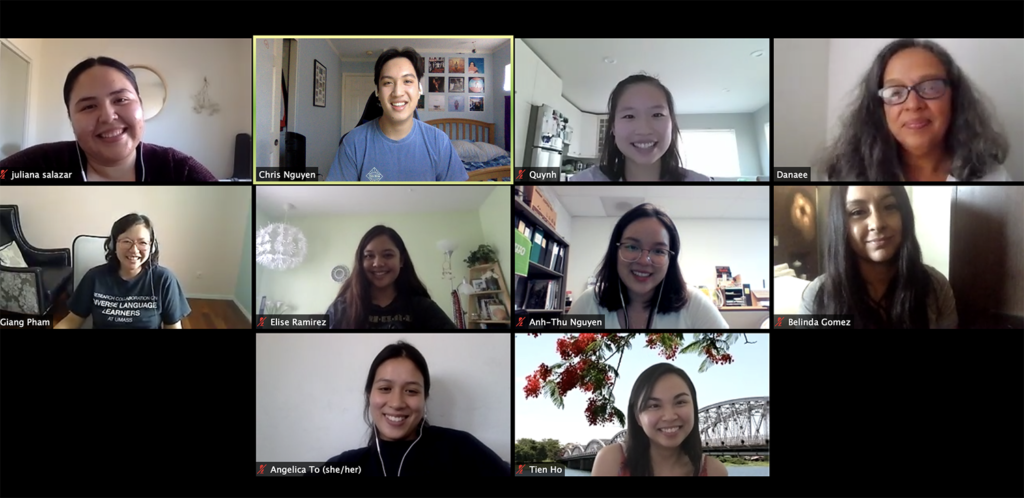 Post-SRS Lab Celebration (March 2020)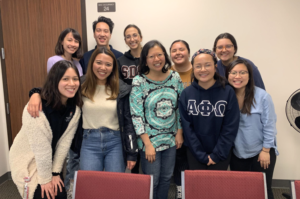 Fall 2019 Friendsgiving
Fall 2019 Lab Potluck and Team Building Activity
Spring 2019 Lab Social at CREAM
Campus Tour and Lunch with International Guests
In November of 2017, the BDC lab hosted Dr. Sharynne McLeod and PhD Student Ben Pham from Charles Sturt University of Australia. With such a beautiful campus here at San Diego State, we thought we would give our international guests a historical tour of the prominent buildings. We started at the Speech, Language, and Hearing Sciences building and moved towards the Malcolm A. Love Library, the Conrad Prebys Aztec Student Union, Hepner Hall, the Turtle Pond, and lastly, our 100 Years, 100 Stones Monument. With so much to be proud of as Aztecs, we knew that McLeod and Pham would feel our pride as we spoke about the school.
Afterwards, the BDC lab ate lunch at Eureka, the new restaurant in the South Campus building. It was a beautiful day so we were able to sit outside to enjoy what truly makes San Diego spectacular – our consistently great weather, even in November! During our meal, it was quite humorous to hear what our Australian guests thought about the food. While sharing plates of fried mac and cheese balls, lollipop corn dogs, fried chicken sliders, crispy glazed brussels sprouts, and more, they simply stated that this meal was "very American!" at which we all laughed because of how true that statement was. Being able to sit down and eat together allowed for an open and casual dialogue between everyone. It was a fantastic way to get to know our guests beyond their work.
It was an honor for the BDC Lab to host these distinguished guests in San Diego, and we are grateful for the joyful memories.